November 21, 2020
Alexander Shaposhnikov
recommends

Handyman and General Construction Services

·

Jeff Robinson is flat out honest, sincere, hard working individual. He and Jay were able to build our 10' high build in office cabinets very professionally right at our drive way. Very skilled in wood to do anything your imagination can dream of. I give highest recommendation for him and his team, as he deeply cares for your satisfaction and his end product! Thank you Jeff and Jay for great cabinets you built here in Sugar Land, Texas!



March 16th 2018
Harvey project
Truth be told I find you the easiest, most reliable and certainly the most efficient and professional. As I told you in my email and it bears repeating; you've saved me on this job and I'm ever so grateful.
Many thanks,
Toyia
August 14 2017
FIVE STARS
Jeff Robinson and his tradesmen were professional , efficient, and accomplished great quality work. Over a couple of weeks they transformed our house from a tired , worn out, dated old house to a fresh, updated, house with style . They did great quality work and quoted reasonable prices. They gave great advice and were easy to work with as they communicated well. Their work for my project included : Rehanging and installing doors, adding a wall and stud portion, drywall hanging , taping, texturing, reworking sink and shower plumbing fixtures and drains, shower surround re tiling, rebuilding window boxes and shutters, repair a front porch post, install bath counter tops, extract and replace a tub, rehang three ceiling lights, install new outlets, reattach a chimney flue , repaint exterior and interior of the house. Oh and they designed a new reclaimed wood mantle. These guys helped assess what all was needed and made sure it was done and done right. Thank you very much.
A
01/
01/2016 – BRIAN WILKINS
5 Stars
Category: Patio Cover
Services Performed: Yes
Cost: $6000
A
03/04/2016 –
Sunny Chahal
5 Stars
Jeff and his coworker Jay took a project that was abandoned by a previous contractor and in disarray and Not only did they fix the mistakes from the previous contractor but did a wonderful job with the deck installation. As it was a flat roof that he installed he took extra steps to laydown water barriers and flashing to prevent any leaking underneath. He also improved the slope of the deck to allow for water to run off away from the house which was a problem in the past. The quote that Jeff provided me was also the cheapest of the three quotes that I took. Although it was the cheapest I always felt that Jeff never cut corners in anyway to complete the task And often spent extra time to make sure that it was done correctly. Jeff and Jay's attention to detail was evident and they took pride in their work. Jeff was very responsive throughout the whole process they arrived on time and Cleaned up behind themselves every day. I really cannot recommend them enough and I will be using them for any future repairs or problems that I have in my house in the future. Category: Decks & Porches, Electrical, Insulation, Roofing, Ceiling Fans Services Performed: Yes
Jeff & his helpers do an outstanding job every time I call on them. They are prompt, courteous, & innovative. I recommend them for all home handyman needs; their prices are low and their work is first rate.
These guys do great work. They are trustworthy, fair, and go above and beyond expectations. I highly recommend this company.
Great, experienced and professional! They are currently working on a project at our house and I'm loving the way its turning out.
Excellent and professional work from start to finish. They are extremely organized, detail oriented, and have great communication. We have had them do multiple days worth of work on our house, and it has been a great experience. It is rare these days to find contractors that are conscientious, reliable, and quality-oriented.
11/04/2016 –
David Marshall
5 Star
When you tear a kitchen down to the barest of bones in a 35 year old house, you might get some surprises. HGCS was great at problem-solving when any problems arose. They did a complete kitchen remodel, painted the entire interior of the home, and installed new flooring throughout. Jeff and Jay also replaced the old galvanized pipes, installed new lighting and switches, hung some new doors, and tackled several other things we threw their way. Their cleaning up at the end of every day was much appreciated. Jeff and Jay were prompt, conscientious, and easy to work with. They explained things to us and valued our input because they wanted us to be satisfied with the end result. We'll be calling them again when we remodel our bathrooms. We recommend them without reservation!
Category: Cabinet Making, Flooring Sales/Installation/Repair, Handymen, Roofing, Ceiling Fans, Remodeling - Kitchen & Bathroom
Services Performed: Yes
Cost: $16000
A
10/25/2016 –
Nancy Mickey
Fantastic job.
5 Star
They came quickly to look over damage and once the walls were ok to install got to work. In approximately 3 weeks one bathroom was usable, walls were all back up, textured, and painted. Once we were ready again, they returned to put on a new roof, and build cabinets for kitchen, and tape/bed garage. They contracted out the roofing, and staining of the cabinets in bathroom and kitchen. Jeff/Jay did oversee the work and were very involved in the work. They did all the installation of cabinets, baseboards, and custom building of the cabinets that were not ready made. Overall we were back in our house in approximately one month. They cleaned up daily so no trash or debris was left behind. Progress was communicated with me via email, text, or in person regularly.
Category: Cabinet Making, Roofing, Remodeling - Kitchen & Bathroom
Services Performed: Yes
Category

:

Cabinet Making, Roofing, Remodeling - Kitchen & Bathroom

Services Performed

:

Yes
– Pete Husak
I commend Jeff and Jay for their methodical approach to determine the problem, make a plan of




attack and then execution of the plan. Everything was measured and re-measured for accuarcy. We had



Category

:

Cabinet Making, Drywall, Electrical, Insulation, Plumbing

Services Performed

:

Yes
Houston, TX 77088
Have used this service several times. Always satisfied. Great quality craftmanship.
Handyman and General Construction Services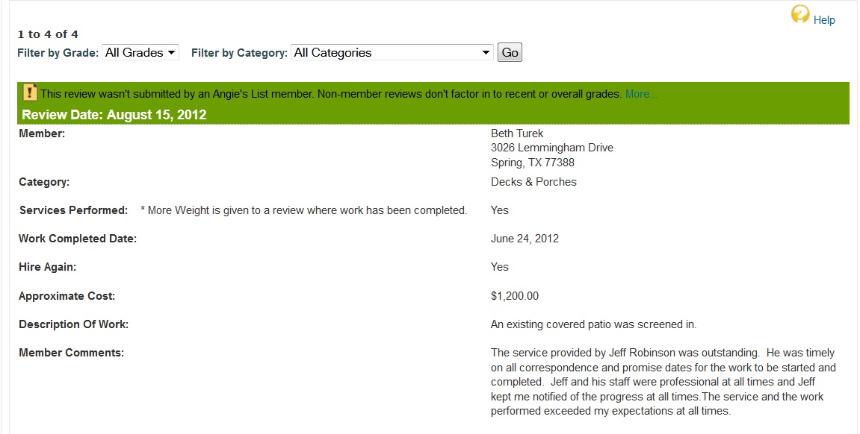 HHF,LLC
Dba, Hughes Home Services
17425a Stuebner Airline Rd.
Spring, Texas 77379
281-251-2424-phone
281-251-2424-fax
To Whom It May Concern:
Jeff has provided my company with various services for some time now, I have found that Jeff's work ethic and attention to detail is second to none. He has made his self available for us when other were not willing to "go the extra mile" to ensure my customers satisfaction, this includes working both late nights and weekends. Jeff has always done what he has said he was going to do at the time he said it would be done and in my industry that is a quality that is quite valuable.
I would highly recommend Jeff both personally and professionally as a person that can be depended on in any regard and will continue to utilize his professional services whenever possible.
Please feel free to contact me at the numbers listed above or call my personal cell-713-922-5457 if any other information is required.
Best Regards,
Michael W. Hughes-COO
HHF, LLC
17425 Stuebner Airline Ste., A
Spring, Texas 77379
My backyard faces west and gets a lot of afternoon sun...so much so, that you have to stay in the pool because there is nowhere to sit in the shade when you get out . To solve my problem, Jeff built a 450 sqft patio that provides a huge amount of shade and has drastically reduced the temperature in my house by blocking direct sun to the windows.
Jeff did most of the work himself which made his price much less expensive. He used a framer to help build the structure and Jeff did most all of the finish out - the framer was awesome too. The entire project took 2.5 weeks. Jeff worked late most every night so he could get the project done as quickly as possible but mentioned that if I didn't want him there past 5, he would leave...didn't bother me, so he would stay until 8 or 9 each night working away. He would clean up the work area every single night to ensure there were no nails/etc out - I have little kids and this was important.
Jeff also built an outdoor cabinet for a TV and outdoor cabinet to house a Receiver, Cable Box and other misc items.
After the project was complete, I needed Jeff to come back out 2 times to touch up a few areas and his response was quick and professional. My original concern of using the least expensive company equating to a lower level of service simply wasn't true. Because Jeff does most all of his own work, he has a vested interest to ensure his customers are happy with his product - he proved this to me with his quick response times.
Five stars all across the board.
Steve Wheeler
HGCS built a custom premium carport for me. His prices were fair and the work is fantastic.
Jeff's project leadership, quality, and crew are top notch.
Rick T.
"I used HandyGCS for several projects in my home, including modification of a wall unit and the complete building and assembly of cabinetry around a large aquarium I had purchased as well as several other smaller projects. Jeff came to my home and walked through each project with me and let me know exactly what would need to be done. I received an estimate later on that day. The estimate was very fair. Jeff and his crew worked on my projects over the course of a couple of weeks, and I found them to be reliable and friendly. They would tell me what time they were planning to arrive and that's when they arrived. The workers were VERY friendly and professional, and the work they performed was outstanding. The work was done in a very reasonable amount of time and the quality of the work was better than I had hoped for. I am VERY satisfied with the work they performed and would definitely use them again if any new projects arise.
Dennis Indiero"