"I used Handyman & General Construction Services for several projects in my home, Including modification of a wall unit and the complete building and assembly of cabinetry around a large aquarium I had purchased as well as several other smaller projects. Jeff came to my home and walked through each project with me and let me know exactly what would need to be done. I received an estimate later on that day. The estimate was very fair. Jeff and his crew worked on my projects over the course of a couple of weeks, and I found them to be reliable and friendly. They would tell me what time they were planning to arrive and that's when they arrived. The workers were VERY friendly and professional, and the work they performed was outstanding. The work was done in a very reasonable amount of time and the quality of the work was better than I had hoped for. I am VERY satisfied with the work they performed and would definitely use them again if any new projects arise.
Dennis Indiero"
"I have used Jeff's services many times Jeff does what he says he is going to do and at the time he says he is going to do it..., and pays close attention to getting the job done right - Customers are happy with his work and honesty and request him back on additional jobs This is an asset in my business, where customer is king.
Mike Hughes, Hughes Home Services, Spring

'Jeff has done several projects involved in the remodeling of my home, from framing to cabinets., .He is a talented craftsman.., I am glad that I found a one-man-show that can take care of all of our residential needs. All of the work done in my home was of highest standards'..,
Thanks Jeff,
Cheryl Lynn, Houston
We have plenty of local Homeowners, Builders, and General Contractors all saying basically the same thing in all areas of work from structures to remodeling and are available upon request...,
Bottom line is . . . ,
When you want a custom quality job done right the first time, we take pride in providing high-end quality service on a 'friend and family's price!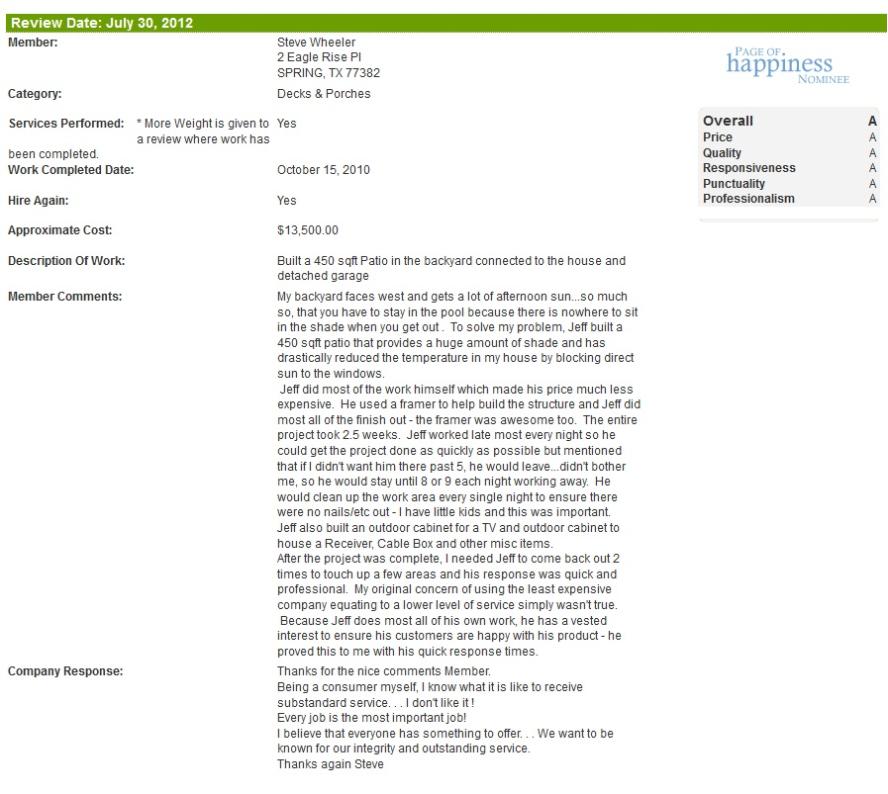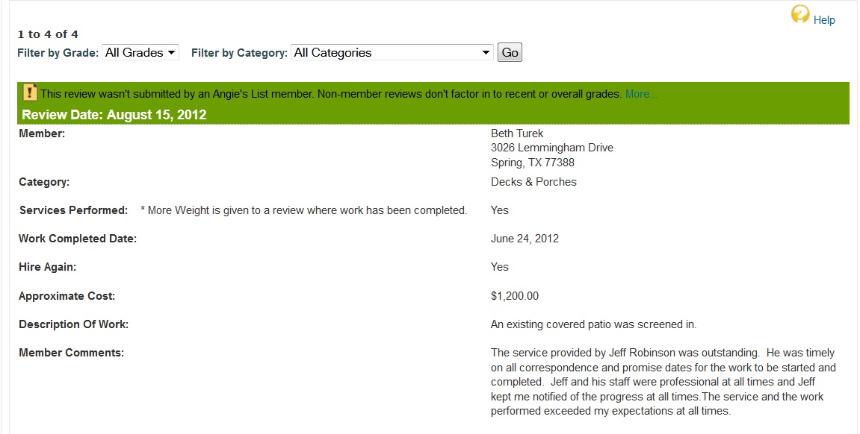 We have used Jeff to do many projects in our home. He did a beautiful outdoor patio cover for our pool area. We get so many compliments from our friends and family on how gorgeous it is. Jeff takes the time to talk with you about what you really want and will work with you to achieve it. His workmanship is absolute "perfection". Jeff always has his customer's satisfaction at the top of his list.... this is so important....especially when you are entrusting someone to work on your home!!! We love all the work that Jeff has done for us and HIGHLY recommend him to anyone considering him! Quality, satisfaction, and honesty are the greatest qualities that Jeff offers. You won't be disappointed by him....Jeff delivers a great job every time!
Kathy and Joe Mattaliano